The brewery
Our 5 Barrel 'Grundy' Brewery
Our brewery has been passionately crafted from old Grundy (Teddington) cellar tanks. These tanks date back as far as the late 60s. The tanks were originally used in pub cellars as storage as distribution tanks for the beers of the time. This style of keeping beer eventually lost popularity and the tanks fell to redundancy.
With the sudden surge of microbreweries in recent years, many of these redundant 'Grundy' tanks have been brought back to life and converted into breweries. As they are now quite sought after, we feel lucky to have found 6 tanks of identical design. All 6 have been fully renovated and modified to provide us with our beautiful 5 barrel brewery plant. All of the tanks were first insulated and then wood clad for a traditional finish.
You can see many pictures of the brewery being built in our photo feed section.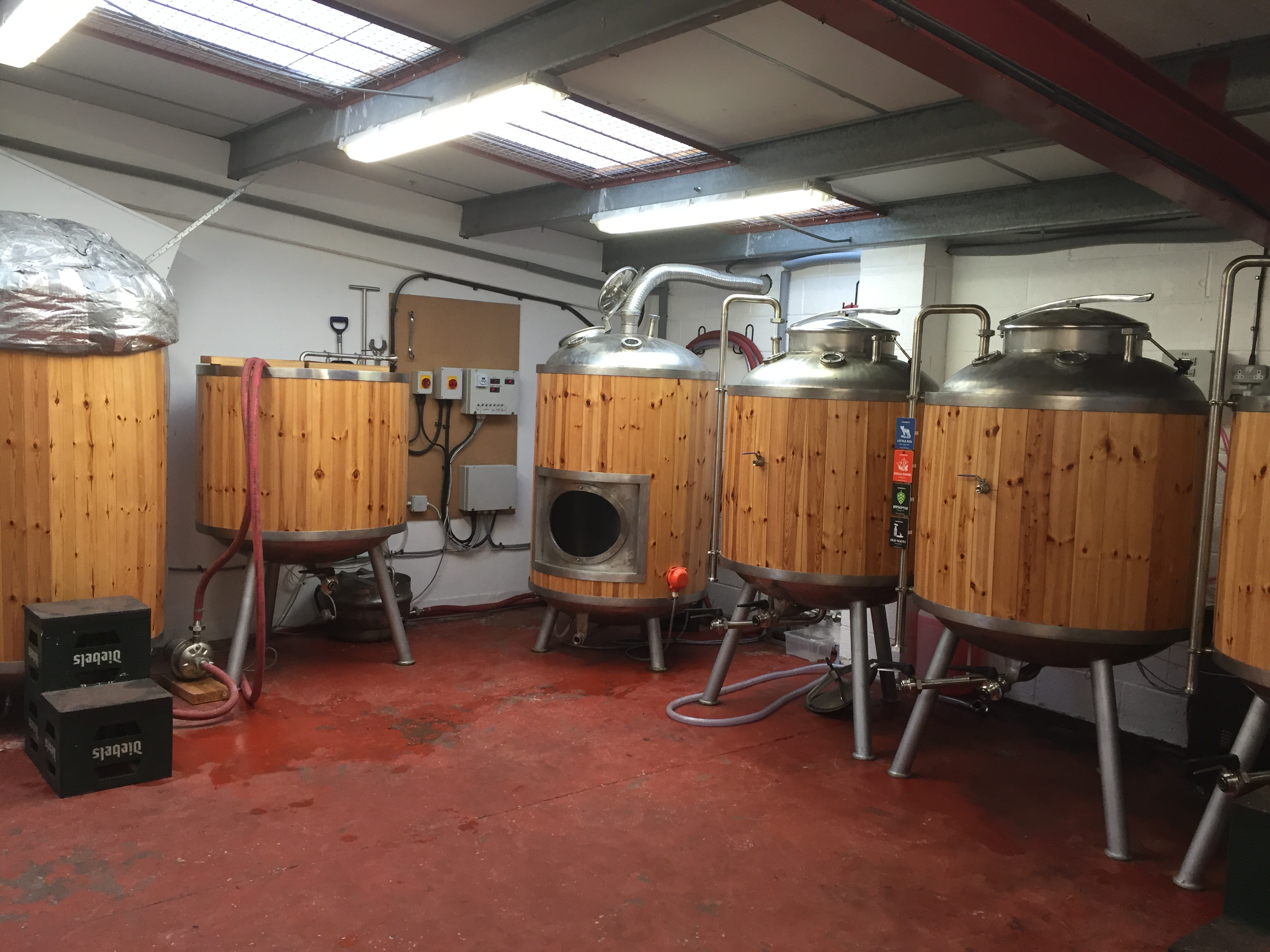 The Brewery Now
HLT (used for controlled heating and storage of brewing liquor)
The hot liquor tank (along with one of the FVs) was bought from Wolf Brewery in Thetford. It had served there for many years as a vessel to move beer around for bottling purposes. Once retrieved the top dome was removed and rolled 316 stainless plate was added to give 3 additional brewing barrels (making 8 barrel total capacity). We added a 12Kw heating element to the vessel. It is now both time, and temperature controlled.
Mash Tun (used for combining and holding malts and liquor – the mash)
The mash tun (along with another of the FVs) was bought from our good friend Simon at Star Brewing Company in Lincolnshire. It had already been used as a mash tun by a local brew pub, so luckily came complete with a stainless steel false bottom. The tanks outer casing however was in bad repair though so was completely stripped. The legs were renewed as the original legs long given way to a horrible angle iron frame for movability. The tank has a temperature probe so we can ensure mash temperatures to a tenth of a degree. The tank was insulated and re clad in wood.
Copper – (used for boiling wort and hops)
The copper is maybe the rarest of the Grundy tanks as it is one of the few 'Grundys' built with the front access manway. Having said this the copper was definitely the closest find! It was sourced from our friend Andy, at Broughs Brewery in Wolverhampton. It had previously served as a copper at Highgate brewery and already had 3 x 12 Kw elements installed (which all worked!). The tank was stripped of its existing cladding and 2 Barrels worth of rolled 316 stainless steel added to bring it up to 7 BB for ample boiling head room. A top manway was added along with various other modifications.
Fermenting Vessels (FVs) – (used for fermenting, cooling , and primary conditioning of our beer)
The combination of the 8 BB HLT and the 7BB Copper allows to almost fully maximise the 5 barrel capacity of the FVs, whilst allowing for fermentation head room. The Grundy used for FV 1 came from Star Brewery along with the mash tun. The Grundy used for FV 2 came from Wolf Brewery along with the one chosen for the HLT. The final Grundy needed for our 3 FV set was found on it's side with a leg missing, and a metre long gash in its side in Doncaster (and we are quite glad whoever set about hacking it up got bored!). Once repaired, along with the other two, they were modified to give full temperature control, and sample taps. The temperature control allows us to maintain a steady 21.5 degrees fermentation temperature, before crash cooling the beer to 7 degrees when fermentation is complete, where it remains for 4 days. Initially we soldiered on with the old clamped and bolted lids, until summer 2014 when we 'bit the bullet', and had them replaced them with 316 stainless steel swing top man ways (and not a day too soon!). Also at that time we installed stainless 'blow off' pipes to allow us a totally air locked fermentation.