About us
Newbridge Brewery joined the brewing scene in 2014, and is a result of head brewer James McCann's passion for real ale and brewing.
I was already a very keen 'all-grain' home-brewer when the real ale explosion happened. Around this time I was also lucky enough to be given some unforgettable experiences, brewing on proper kit with great local microbreweries. As a result I was itching to do something bigger in real ale myself.
Ultimately I had to make the difficult decision of turning down a great investment opportunity. A local microbrewery was considering downsizing and selling some kit. Whist the decision was made for the right reasons at the time, I was left very frustrated.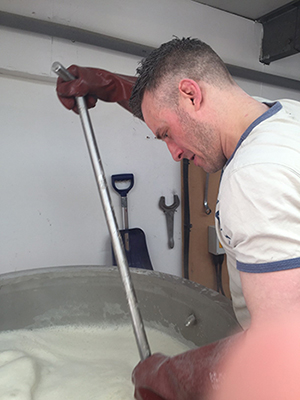 Mashing In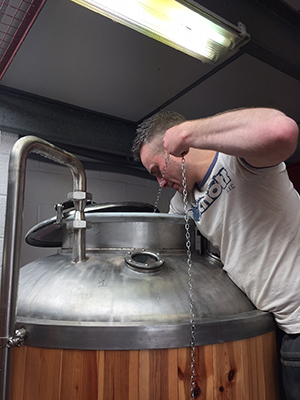 Preparing the FV
So, in August 2013 I began a new project. I began searching to find a set of six matching Grundy Teddington cellar tanks ('Grundy Tanks') to build my own micro. Eventually the required tanks were sourced from various corners of the country, (and in various states of poor repair!) However, once stripped, the stainless steel tanks (dating back to the late 60's and early 70's) were clearly perfect for future brewing use.
Having already secured a small industrial unit and filled it with old tanks, the loving process of restoring and modifying the tanks soon began. Originally the plan was to take a few years over the project, but with the 'bit between our teeth' fast progress was made and we were ready to brew by Easter 2014.
These days we produce 1x5 barrel brew per week (the brewery could actually brew three times per week - maybe in the future this will develop). For now we are just content to be brewing great beer and still enjoying it. I'm glad that I can still consider brewing a hobby, and not a chore.
Feel free to get in touch if you'd like to find out more.
James